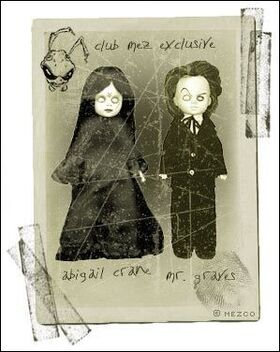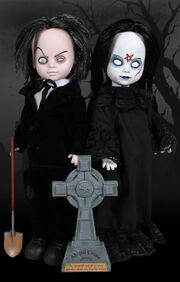 Date of Death: 12/2/1917
Cause of Death (Mr. Graves): Eaten by Abigail
Cause of Death (Abigail): Unknown
Chipboard Poem
Edit
A shovel is used
To fulfill his greed.
But when he reaches her grave,
It's her time to feed.
Death Certificate
Edit
Full of greed he used to exhume,
In search of jewels he entered tombs.
He disturbed her grave one dreary night,
And she stole his life bite by bite.
Fun Facts
Edit
Value: $140-$180
Abigail Crane and Mr. Graves was the first Club Mez exclusive 2-pack.
Abigail Crane has appeared as a 18" porcelain doll.
Some fans mistake Abigail Crane for Series 1 doll Posey, because of the similar features.
The words on Abigail's gravestone say: She hated life, and all it's terms. Now she's dead, just food for the worms.
They might be enemies to one another. This is shown because Mr. Grave first digs up the gravestones, then Abigail destroys them.
Community content is available under
CC-BY-SA
unless otherwise noted.