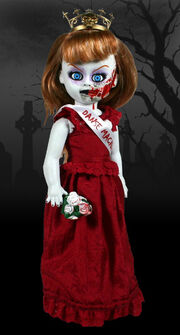 Date of Death: 3/13/1973 at 7:14 pm.
Cause of death: Blunt force trauma.
Chipboard Poem
Edit
Our prom queen comes
With a bouquet and tiara,
Risen from the dead
and ready to scare ya.
Death Certificate
Edit
Maimed by jealous rivals on prom night,
turned queen to carcass by morning light.
Deadbra Ann is back without a breath,
To turn each night into a dance of death.
Accessories
Edit
Tiara and bloody bouquet of white roses.
Fun Facts
Edit
Appeared in the fifth Resurrection series.
Has appeared as a mini doll.
Deadbra Ann is the first doll with a gashed face.
Said to be based on a friend of creators Ed & Damien
Her deathdate is the day that Steven King's first novel Carrie was first published, hence the prom motif. In addition her Resurrection varient has her covered in blood (which was the climax point in the book).
She is one of only 8 full-sized dolls to wear a crown (if Rain's crown of thorns counts).