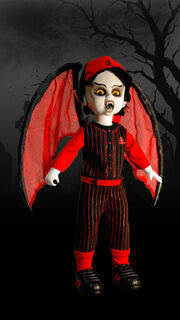 Living Dead Dolls Series 21
Date of Death: August 16th, 1948
Cause of Death: Broken bat to the neck
Chipboard Poem
Edit
He has a bat, a hat, and wings
Ready to spread.
With fangs, and pointed ears
This Bat Boy's undead
Death Certificate
Edit
A broken bat came whirling and lodged in his neck
As player screamed in vain, "Kid hit the deck!"
But somehow Desmodus just wouldn't die
Instead he grew fangs, and wings and found he could fly!
Accessories
Edit
Fun Facts
Edit
Shares a deathdate with baseball legend Babe Ruth.
He is one of a few dolls with a sports motif which is baseball (resurrection Lulu (roller derby) and El Luchador Muerto (wrestling) being the others).
Is the only male doll with wings.
He looks are a visual pun on the position Bat Boy, who are people (mostly children) who give out the baseball bats to the players.
His name is the same as a genus of bat species, the vampire bat to be exact.
Community content is available under
CC-BY-SA
unless otherwise noted.