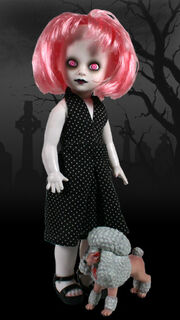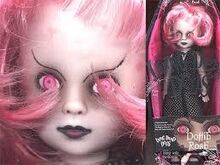 Date of death: 2/26/1904
Cause of death: Allergic reaction to the sun (porphyria)
Chipboard Poem
Edit
Dottie Rose and her pet poodle Hun.
As dead as they are, they still have some fun.
Death Certificate
Edit
Dottie was highly allergic to the sun,
But she loved sundresses and her pet poodle Hun.
Late one morning Hun ran out into the day,
Dottie followed fast, dying on her way.
Accessories
Edit
Demonic Poodle named Hun.
Fun Facts
Edit
Has the same disease as the children from 'The Others.' This disease is known as porphyria, which causes the skin to blister when exposed to sunlight. Oddly, her doll has no blisters.
There are two versions of Dottie Rose, one with eyebrows and without.