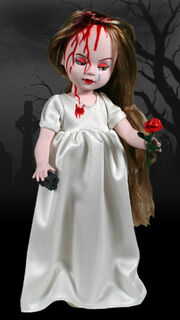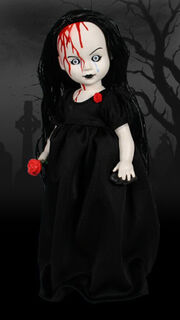 Date of Death: 2/20/1996
Cause of death: Head bashed in with a rock.
Chipboard Poem
[
]
With a soft and sweet kiss,
Tears filled her eyes.
A figure of innocence,
That soon met her demise.
Death Certificate
[
]
From the wound in her head,
The red blood does flow.
She was found down by the river,
Where the red roses grow.
Accessories
[
]
The rock that caused her death.
A red rose.
Fun Facts
[
]
Based on the song "Where the Wild Roses Grow" by Australian rock band Nick Cave and the Bad Seeds with Kylie Minogue as Elisa Day.
The death date is the original release date of Nick Cave and the Bad Seeds' album Murder Ballads, which featured the aforementioned song.
She is one of the few dolls whose eyes are glancing to the side. However, her variant's eyes stare straight ahead.
Available as a glow-in-the dark variant.
She's also based off the urban legend "Elisa Day".