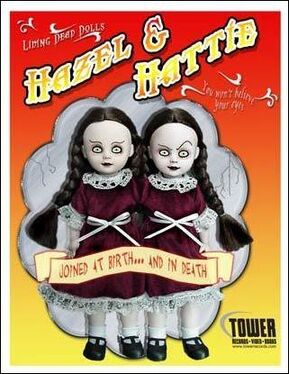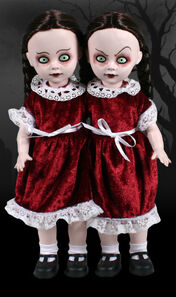 Living Dead Dolls Exclusives
Date of Death: 1/6/1969
Chipboard Poem
[
]
Siamese Twins inseparable from birth,
Terror and dismay is what brings them mirth.
Doubling your pain is best what they know,
So come to their carnival it's one hell of a show.
Death Certificate
[
]
Hazel and Hattie were born one of a kind.
Hattie died suddenly before their time.
Hazel wasn't ready to accept death with her,
So Hattie arose to bond them by murder.
Fun Facts
[
]
Value: $100-$250
The first one-and-only conjoined dolls.
Also appeared in Resurrection Series IV.
Only available at Tower Records.
Hazel is the right twin with white underwear, and Hattie on the left with black underwear.
Shares a deathdate with Daisy and Violet Hilton, who were siamese twins and also inspired the twins in the horror film, The Shining.
They are performers in the freak show,and they are similar to performers Daisy and Violet Hilton also being conjoined twins.