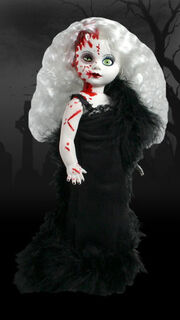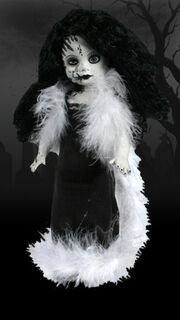 Date of death: 6/29/1967 at 4:07am
Cause of death: Sabotage that resulted in a car crash.
Chipboard Poem
[
]
Cast - Hollywood
Play - Series 5
Director - Ed Long & Damien Glonek
Scene - Hollywood was a famous glamour gal.
She liked to race around with her rich promoter Sal.
But late one night this resulted in their death,
For the brakes have been cut by a stalker named Seth.
Death Certificate
[
]
Name of Deceased - Hollywood
Last Occupation - Actress
Cause of Death - Massive Head Trauma.
Fun Facts
[
]
Shares a death date with actress and former Playboy model Jayne Mansfield.
Both Hollywood and Mansfield died of severe head trauma due to automobile accidents, but Mansfield did not have a stalker who cut the brakes.
Appeared in the Fashion Victims series.
Her name comes from the town of the same name.