Date of Death: N/A
Cause of Death: Jiangshi virus
Chipboard Poem
Edit
Infected with the jiangshi virus
Only the spell on paper can stop the curse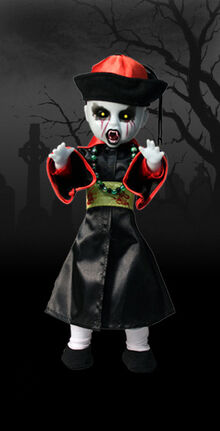 Once attached to his head
This Hopping Vampire will disperse.
Death Certificate
Edit
First Reported: 1644
Country: China
Region: Xiangxi
Characteristics: Body is stiff, can not bend limbs.
Has to move around by hopping while
keeping its arms stretched out for mobility.
Category: Vampire, Ghost
Accesory
Edit
Fun Facts
Edit
He is based on the Jiang-Si legend.
He is the second Asian doll (China), with Yuki Onna (Japan) being the other.
Community content is available under
CC-BY-SA
unless otherwise noted.