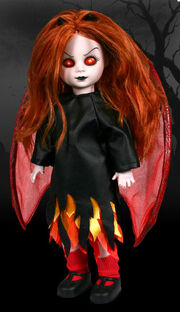 Date of death: 12/1/1947
Cause of death: Soul Eaten By a Demon
Chipboard Poem
Edit
Like a Phoenix,
From the flames she arose.
Pain and suffering
She now bestows.
Death Certificate
Edit
Tiny Inferno liked to play with black magic,
Until she met her demise so tragic.
She conjured a demon she could not control,
Angry and starving he devoured her soul.
Accessories
Edit
Fun Facts
Edit
Shares a death date with occultist Aleister Crowley.
First doll with wings.
Appeared as a Fashion Victim.
Appeared in Resurrection Series V.
Appeared in the Alice in Wonderland set as the Red Queen.
Has appeared as a Dollie and a mini doll.
Her name comes from a massive body of fire (e.g Hell).