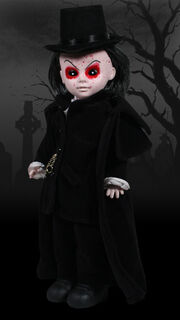 Living Dead Dolls Exclusives
Date of Death: N/A
Cause of Death: N/A
Chipboard Poem
Edit
In the autumn of terror
I dealt despicable deeds.
The Whitechapel slasher,
The newspaper reads.
Intoxicating is my savage attack,
I am the ripper known as Jack.
Death Certificate
Edit
It seems the bobbies given up chase of the ripper's game,
For the Hell to come you have only yourself to blame.
The delve guides my scalpul as I run your streets red,
I still hunt though you think me long dead.
Come take a dip in my bloody pool,
You will never catch me you bloody fool!
Rest assured that I am back,
Sincerely yours, Saucy Jack.
Fun Facts
Edit
Jack the Ripper was a Star Images UK exclusive and was not released in the United States at retail.
He, Krampus (Besides On Mezco Direct And In The Mystery Boxes), And Walpurgis are the only exclusives that haven't been released in the United States.
He is one of 2 male dolls to be based off a real person (the other is Edgar Allan Poe).
He is one of 7 dolls to be based off a real person (the other 6 are Lizzie Borden, Dahlia, Bathory, Captian Bonny, Edgar Allan Poe, and Holle Katrina).
He is one of six male dolls with long hair with Macumba, Otis, Beast, Rotten Sam, and Edgrr being the other 5.
Has appeared in Resurrection IX.

He's the second solo exclusive to be resurrected (Penny being the first).
Community content is available under
CC-BY-SA
unless otherwise noted.