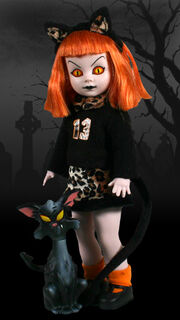 Living Dead Dolls Series 6
Date of death: 6/7/13
Cause of death: Not Specified
Chipboard Poem
Edit
Jinx and her Hellcat make quite a pair.
Their path is paved with bad luck,
So cross it if you dare.
Death Certificate
Edit
Breaking mirrors and walking under ladders till she died,
This unlucky kitten used up all of her nine lives.
Accessories
Edit
Fun Facts
Edit
6+7=13 (see above).
Appeared in the Alice in Wonderland set as the Cheshire Cat, exclusive in the U.K. and Japan.