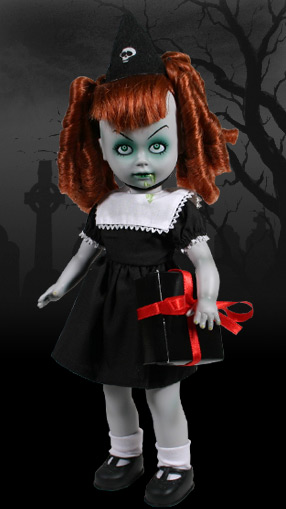 Date of Death: 6/27/1893
Cause of Death: Unspecified
Chipboard Poem
Edit
Happy Birthday to you,
Happy Birthday to you,
You look like a ghoul,
And you smell like one too!
Death Certificate
Edit
Wrapped up inside this present,
A gift for you awaits.
By opening it you have condemned yourself,
And sealed your own fate.
So hopefully your birthday goes off without a hitch,
And Jubilee is not around.
For if you invite this ghoul to your celebration,
Evil will surely abound.
Accessories
Edit
Fun Facts
Edit
June 27th is the birthday of Mildread J. Hill who composed the tune of Happy Birthday in 1893.
Jubilee's birthday is an article on the back of Isaiah's newspaper.
Inside Jubilee's birthday present are two LDD badges.
Until Series 28, Jubilee is the only birthday themed doll. Later, the 13th anniversary birthday dolls were made in 2011, along with the Sweet 16 dolls in 2014 and the 20th anniversary dolls in 2018.
She is one of the few dolls that feature vomit.