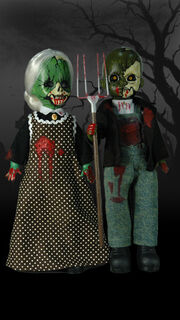 Living Dead Dolls Presents
Date of Death
Edit
The death date is not known.
Chipboard Poem
Edit
No chipboard poem was composed for this set.
Death Certificate
Edit
Deep in the hell that is the rural Midwest,
Two corpses stood, no emotions expressed.
The woman looks empty in her unholy stare,
The man just vacant in this American nightmare.
Unable to leave this torment, no matter how much they wanna,
For they are now a piece of Living Dead Dolls Americana.
Fun Facts
Edit
This is the second version of the American Gothic 2 pack. This 2-pack is a Spencer Gifts exclusive.(2004) Came in a double coffin. Based on the painting American Gothic by Grant Wood. Exclusive to Spencer Gifts.
Grant Wood's sister Nan and the family's dentist, Dr. Byron McKeeby, donned a colonial apron and overalls to pose for the painter's American Gothic. Rather than these formidable figures, however, it was actually a Carpenter Gothic-style house in Iowa that inspired Wood to create the 1930 painting.

Community content is available under
CC-BY-SA
unless otherwise noted.