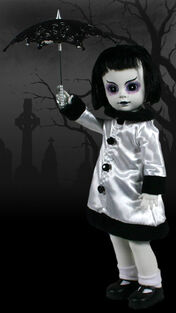 Date of death: 2/11/1963 at 9:13am
Cause of death: Pill overdose.
Chipboard Poem
[
]
She comes with an umbrella,
To help keep out the sun.
Now that everything is dark,
Her playtime has begun.
Death Certificate
[
]
Lottie ate a pound of aspirin,
That went straight to her head.
She pretended they were sweets,
Instead of treats for the dead.
Accessories
[
]
Fun Facts
[
]
Shares a death date with poet and The Bell Jar writer Sylvia Plath, who took her own life. Much like Lottie, some think that Plath's death was accidental.
Appeared in the first Resurrection Series.
Has appeared as a mini doll.