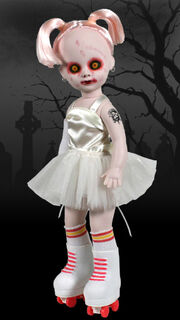 Date of Death: 8/17/1978 at 6:25am
Cause of Death: Skated down stairs and succumbed to injuries
Chipboard Poem
[
]
With a broken leg,
And roller skates.
She wants to be,
Your new playmate.
Death Certificate
[
]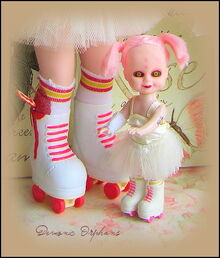 She skated towards the concrete stairs,
Hearing the many shouted dares.
Then she tumbled straight to Hell,
Into her own little grave our dear Lulu fell.
Accessories
[
]
Fun Facts:
[
]
Lulu was the first doll without eyebrows. The next was Dottie Rose.
She

was the f

irst doll with a tattoo.

She is the f

irst and only doll with a compound fracture; having a bone sticking out of her right leg.

She was the f

irst doll with roller skates, which Peggy Goo later had.
Lulu has appeared in the Fashion Victims series.
She appeared in Resurrection Series II.
She has appeared as a mini doll.
Becky, Ed Long's ex-wife, was the inspiration for this doll.
Although she has a broken leg, a cast is on her right arm, signifying she has more injuries than are named.