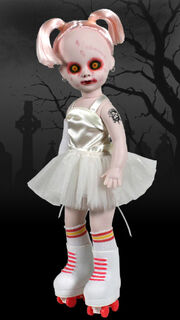 Date of Death: 8/17/1978 at 6:25am
Cause of Death: Tried to skate down the stairs.
Chipboard Poem
Edit
With a broken leg
And roller skates,
She wants to be
Your new playmate.
Death Certificate
Edit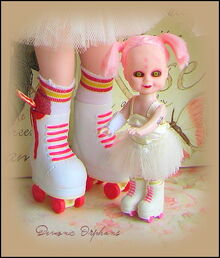 She skated towards the concrete stairs,
Hearing the many shouted dares.
Then she tumbled straight to Hell,
Into her own little grave our dear Lulu fell.
Accessories
Edit
Rollerskates
Fun Facts:
Edit
Lulu was the first doll without eyebrows. The next was Dottie Rose.
She

was the f

irst doll with a tattoo. Although she appears to be a child, so the tattoo may not be injected.

She is the f

irst and only doll with a compound fracture; having a bone sticking out of her right leg.

She was the f

irst doll with roller skates, which Peggy Goo later had.
Lulu has appeared in the Fashion Victims series.
She appeared in Resurrection Series II.
She has appeared as a mini doll.
Becky, Ed Long's wife, was the inspiration for this doll.
Although she has a broken leg, the cast is on her right arm. It's possible she could have more than one fracture.
Community content is available under
CC-BY-SA
unless otherwise noted.