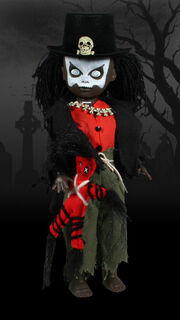 Date of death: 6/15/1881
Cause of death: Voodoo Curse
Chipboard Poem
Edit
With a doll,
He casts his spell.
No one is safe
From this zombie hell.
Death Certificate
Edit
Placed under a voodoo curse,
It was an evil spell he could not reverse.
A soul trapped behind lifeless eyes,
All things alive are now despised.
Accessories
Edit
Voodoo Doll
Hat
Bone necklace (the same piece later used as Envy's belt)
Fun Facts
Edit
First non-white doll, with Yuki Onna, Hopping Vampire (both from Asia), Calavera, Series 20 (all from Central America), and Milu (Polynesian) following suit. Demonique is an unknown race.

He is currently the only LDD who is black.

Shares a death date with Marie Laveau, Voodoo queen of New Orleans.
Has appeared as a mini doll.
He's currently the only series 4 doll to not have been ressurrected.
He was the doll that resulted in series 4 being banned in Greece.
First doll with yarn for hair. He is one of three male dolls to have it along with Rotten Sam and Misery.
He is the first of 7 male dolls with long hair, with Doom, Beast, Jack the Ripper, Rotten Sam, and Edgrr being the other 6.
Community content is available under
CC-BY-SA
unless otherwise noted.