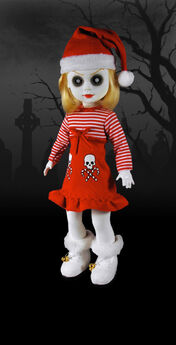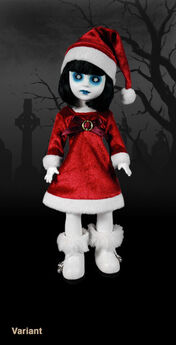 Living Dead Dolls Exclusive
Date of Death: 12/25/1957
Cause of death: Unknown
Chipboard Poem
[
]
This doll Nohell, was no angel they say
She would break all the other toys aboard Santa's Sleigh
And While all the children are all fast asleep
On a cold winter's night down your chimney she creeps
Nohell, Nohell, Nohell, Nohell
Beware the doll who rings death's bell
Death Certificate
[
]
Some Dolls are Meant to bring kids joy
But Nohell is a doll unlike any other toy
Made from spoiled milk and blackened coal
Ruining the holidays is her ultimate goal
Fun Facts
[
]
Her variant includes a commemorative stocking.
Her coffin is white instead of black, silver, or cobalt blue.
Her name comes from the French word Noel, which is Christmas in French.
Her eyes have snowflakes in them.
Her poem is written to the tune of "The First Noel".
Nohell's variant has white skin and blue lips, which are signs of hypothermia and frostbite.