Beware there is a fake resurrection variant Lilith! Beware! (she has short teeth, and stubby arms!) Be careful!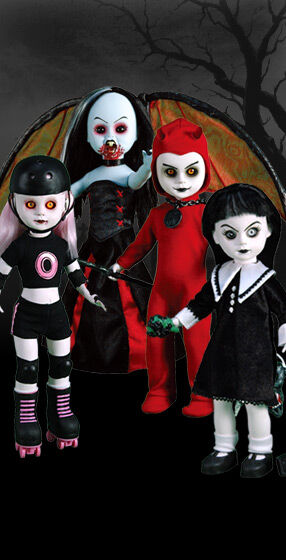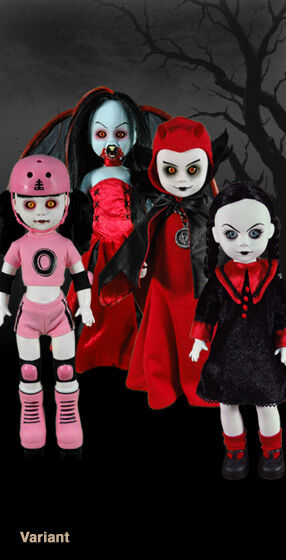 Dolls
[
]
Prices (May not be valid)
[
]
Value (May not be valid)

Regulars (May not be valid)

Sadie: $250-$400?
Lou Sapphire: $150- $280?
Lilith: $200-$300?
Lulu: $250-$480?
Sold as a set in 2008: $150

Variants ( May not be Valid )

Sadie: $500-$900?
Lilith: $400-$870?
Lou Sapphire: $200-$300?
Lulu: $400-$700?
Sold as a set in 2008: $250
Fun facts
[
]
Lilith's fangs resembles Nosferatu's.
Lilith's arms are the same as Nosferatu's.
Each doll in the regular set is limited to 525 pieces.
Each doll in the variant set is limited to 75 pieces.
The queen and king of hell appear in both of these sets (Lilith and Lou.)
Resurrection variant Lilith has glow in the dark skin similar to Japan Exclusive Eggzorcist.
Resurrection and Res variant lilith has unique pointy ears, unlike desmodus and Nosferatu.
from the regular resurrection set to the variant set, only 2 of the dolls eyes stayed the same, while liliths and sadies changed.
In the variant set Lou and lilith have almost the same eye design.
Both sadies have skull buttons down there dress.
Both sadies have a lace design throughout there dress.
Lulu seems to have reverse colors in the variant set.
Either of the Lou's do not have shoes.
Sadie resembles wednesday addams, mostly in the variant set. also being based off of sadie manson.
The res variant lilith has reverse wings from the res version
Lilith has the standard high heels/ witch boots.
Sadie has Marie janes with red/ white socks
Lulu has roller skates, first seen on lulu.
The res lilith resembles lily munster, with the white streak.
Both liliths have a different colored choker.
The 2 liliths seem to be totally reverse, matching with the way they did lulu.
Res variant lilith and res variant sadie, have the most value in the sets.
It is confirmed by damien that lilith is meant to be adam's first wife, and mother of demons.
It was a coincidence that the king and queen of hell are in this series, (confirmed by damien)
Lou's mask was not meant to look like lilith, (confirmed by damien)
Res variant lilith is the first glow in the dark painted resurrection doll, and only with the glow paint skin.

There is and was a fake resurrection variant lilith going around! Beware ( the fake has really short teeth, small eyes, and short arms!) Just be careful!