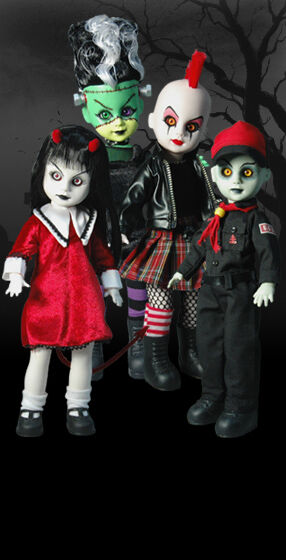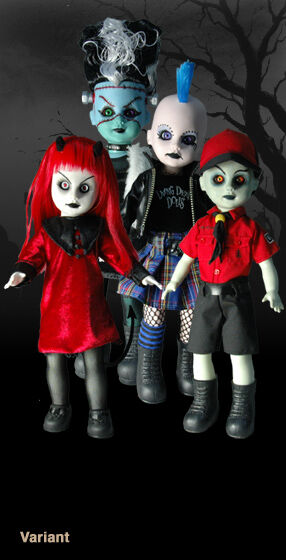 Dolls
[
]
Value (May not be valid)
[
]
Value

Regulars (May not be valid)

Sheena: $120-$230?
Sin: $150-$250?
Bride of Valentine: $150-$220?
Ezekiel: $60-$100?

Variants (May not be valid)

Sheena: $400-$700?
Sin: $470-$900?
Bride of Valentine: $230-$400?
Ezekiel: $160-$300?
Facts

[

]
Resurrection variant Ezekiel has hair under his hat.
Resurrection variant Bride of Valentine, has a white fluffy coat.
Resurrection variant sin and Resurrection sin, seem to have very similar clothing as Resurrection and Resurrection variant Sadie, which makes since since all the Sadie's an Sin's seemed to match in their clothing.
Bride of Valentine's Hair resembles that of bride of Frankenstein.
Sheena has piercings.
Sin and Bride of Valentine, has very similar, if not the same leggings.
Res sin and Res var sin are reversed with the colors, like Res Sadie and Res var Sadie.
Res Sheena doesn't have a living dead dolls shirt, as the Variant does.
RV BOV has red eye whites, giving her a much more scary effect.