Jurassic World: Dominion Dominates Fandom Wikis - The Loop
Play Sound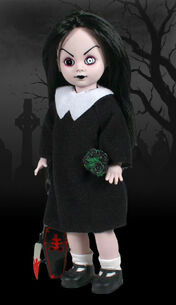 Date of Death: 4/26/1969
Cause of Death: Unclear (possibly suicide)
Chipboard Poem
[
]
Watch this little one,
She's pining away.
With her butcher's knife,
Coffin purse,
And black bouquet.
Death Certificate
[
]
No one cared how she turned up dead,
So Sadie chose to rise instead.
Being easily forgotten wouldn't be fair,
Death was something this child had to share.
Accessories
[
]
Bouquet of black roses
Blood-stained knife
Coffin-shaped purse
Fun Facts
[
]
Sadie was the first LDD ever made in the commercial toy line.
She is based on Manson family member Susan "Sadie" Atkins, as well as Wednesday Addams. Her name could also be a shortened version of the word "sadistic," which would reflect her nature.
In later incarnations, Sadie gains an "x" on her forehead which appears to be carved into her skin. This design was originally given to Eggzorcist in the same series. This is also a reference to the Manson family, and thus better fits Sadie. It could also be a reference to the metal musician Rob Zombie, who is known for wearing one as well.
Sadie is the first doll with heterochromia, a condition where a person has differently colored eyes.
Sadie has the most appearances of any LDD, with a Resurrection, Fashion Victims doll, her Alice in Wonderland dolls, her 13th Anniversary doll, a Celebration edition, and her four series dolls (original, School Time Sadie, Bedtime Sadie, and Sweet 16 Sadie).
Sadie has also appeared as three mini dolls, a "Creepy Cuddlers" plush doll, a pencil sharpener, and a pencil topper.
She and Sin consistently have identical outfits and similar hairstyles in their multiple editions, making them easy to mistake for each other.
She is the mascot of the Living Dead Dolls franchise.