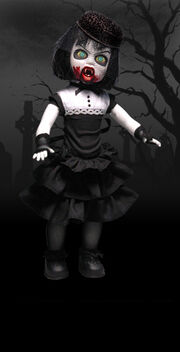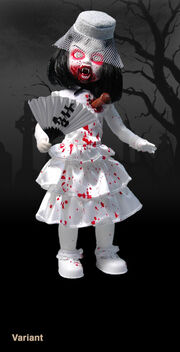 Living Dead Dolls Series 19
Date of Death: November 17, 1979
Cause of Death: vampire bite
Chipboard Poem
Edit
At night this tyke likes to drink Blood often
But by day she stays in her pint-sized coffin
Death Certificate
Edit
Sinking her fangs deep in your neck
You felt your blood drained as you slept
Only a stake or the sun can turn her to dust
And bring an end to this insatiable blood lust
Accessories
Edit
Paper fan
Stake (variant)
Fun Facts
Edit
Each doll comes in a variant black and white outfit with red blood.
She and fellow vampire Lilith have the same eye colors.
Part of her name is the French word for 'blood', in which fits into the theme of her series.
Community content is available under
CC-BY-SA
unless otherwise noted.