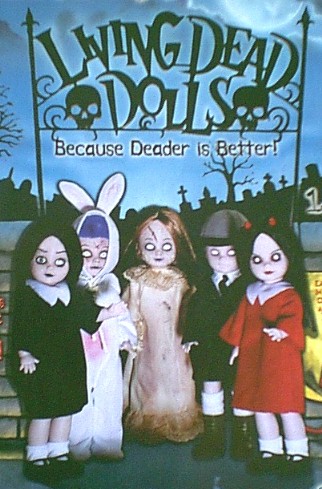 The first series of Living Dead Dolls was released in March 2001.
Other Information
Edit
All retired (Laid to Rest)
Posey: $30-$50
Eggzorcist: $30-$50
Sadie: $25-$45
Sin: $25-$45
Damien: $25-$45
Fun FactsEdit
Series one was first released in the USA, then later in Japan. There are two differences between these releases. The Japan dolls have a large white Japanese sticker on the bottom of their coffins and they also have holes in their hands just like the later series. However, they sell for the exact same amount and people hardly ever speak of the differences. Limited to about 35000 sets
Series one was re-released for the 13th Anniversary of Living Dead Dolls. The re-releases have slight differences in appearance to the original series one such as the color of Sin and Sadie's eyes being changed. They have new ball jointed bodies which are taller than the original dolls. They also have a 13th Anniversary symbol on the back of their necks.
A variant set of the 13th anniverasy dolls was later released which replicated the original series one exactly, the only difference being the use of the newer ball-jointed bodies.
Next Series:Series 2
Community content is available under
CC-BY-SA
unless otherwise noted.