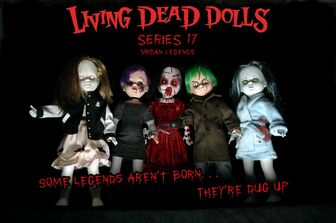 The seventeenth series of Living Dead Dolls was released in 2009.
Dolls
[
]
Other Information
[
]
All retired (Laid to Rest)
Bloody Mary: $75-$180
The Vanishing Hitchhiker: $55-$150
The Unwilling Donor: $75-$110
Spider Bite: $40-$160
The Hook: $35-$80
Fun Facts
[
]
This is one of three series not to include death dates on the death certificates. Series 24 and Series 31 are the other two sets to not have death dates.
This is one of two series to not have proper names, with Series 29 being the other.