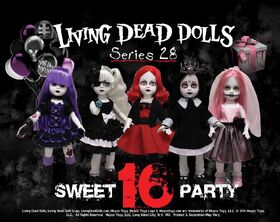 Living Dead Doll's Sweet Sixteen has some plans that are sure to peak your interest, and by the time the party's done there may be a coroner's inquest. Go put on your party clothes, don't wait for an invitation, set aside your grave concerns, it's time for desecration! These little horrors just want to spend some nice playtime with you, so don't be scared. They won't bite you or kill you or bury you alive... maybe.
Dolls
[
]
Fun Facts
[
]
This is the first time since Series 7 to have a main series version of Sadie.
This series commemorates Sweet 16 of the Living Dead Dolls, so it's basically a party theme.