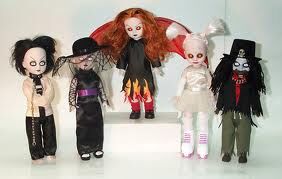 The fourth series of Living Dead Dolls was released in September of 2002.
Dolls

[

]
Other Information

[

]
All retired (Laid to Rest)
Note: A doll's value is related to the condition of the doll, the rarity of the doll due to limitations in production/general rarity/etc., whether or not the doll is sealed, and whether or not the doll comes with its coffin/death certificate/chipboard/accessories, etc. The prices below are rough estimates based on collector's recommendations and general value progression over time.
Sybil
Doll only - $20 - $25
Doll, opened, with all components - $50 - $75
Sealed - $85 - $90
Inferno
Doll only - $20 - $25
Doll, opened, with all components - $45 - $65
Sealed - $80 - $90
Lulu
Doll only - $20 - $25
Doll, opened, with all components - $45 - $65
Sealed - $80 - $90
Macumba
Doll only - $20 - $25
Doll, opened, with all components - $35 - $45
Sealed- $75 - $85
Ms. Eerie
Doll only - $20 - $25
Doll, opened, with all components - $35 - $40
Sealed - $55 - $65