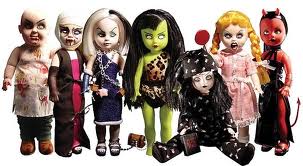 The seventh series of Living Dead Dolls was released in 2004.
Fun Facts
Edit
This series is the only one to have more than 6 dolls.
The poster for this series is similar to the Se7en film's poster.
The colors of their coffin paper are the colors of the seven deadly sins.
Other Information
Edit
All Retired (Laid to Rest)
Sloth: $25-$50
Lust: $25-$45
Wrath: $20-$40
Vanity: $20-$40
Greed: $20-$40
Envy: $15-$35
Gluttony: $15-$35