Date of death: 4/5/1976 at 9:00am
Cause of death: Died in her sleep
Chipboard Poem
Edit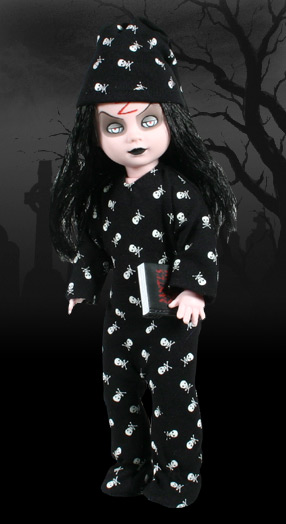 Sloth - n. 1. Habitual laziness, failure to pursue virtue.
2. See Bed Time Sadie.
Death Certificate
Edit
Now I lay me down to sleep,
I pray to hell my soul to keep.
I hope I die before I wake,
And am thrown into a pit of snakes.
Accessories
Edit
Book "Dante's Bedtime Stories"
Fun Facts
Edit
Shares a deathdate with eccentric billionaire Howard Hughes.
Her coffin paper is light blue, the color of sloth.
Appeared as a mini doll (with a variant) before being introduced as a series doll.
Also appeared as the first ever Living Dead Dolls plush doll, featuring eyes that opened and closed. She came with a smaller stuffed bear with creepy teeth and was only available to Club Mez members.
Community content is available under
CC-BY-SA
unless otherwise noted.