Living Dead Dolls Series 23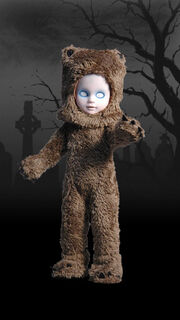 Date of Death: September 1, 1985
Cause of Death: Bit by a zombie
Chipboard Poem
Edit
It's a tea party and Teddy was ecstatic
He found his bear costume in the attic
However Teddy was a zombie, ya see
He ate some kids and drank some tea
Death Certificate
Edit
Teddy got bit by an odd kid on the playground
Winds up the kid was dead but still walking around
So now Teddy is also a zombie boy
Dressing like a bear is what he enjoys
Accessories
Edit
Betsy comes with a teapot while the other four dolls come with tea cups. Each doll with a tea cup comes with a table leg which can be put on a coffin lid to make a tea table.
Fun Facts
Edit
Night of the Comet was released in the UK on VHS on Teddy's death date.
The hair under his hood is light brown.
His name comes from the fact that he's in a bear costume.
Community content is available under
CC-BY-SA
unless otherwise noted.