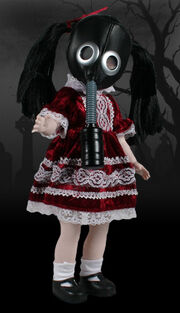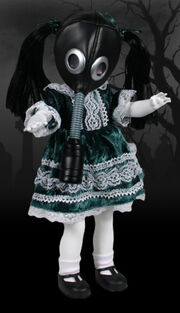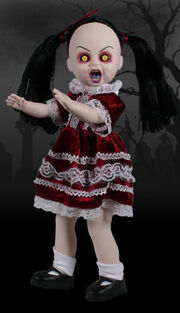 Date of death: 4/25/1986
Cause of death: Radiation poisoning.
Chipboard Poem
[
]
With all the pollutants that she sucked in,
Toxic Molly gave herself a vow.
She would continue to breathe in the life that she loved,
But not even her gasmask can save her now.
Death Certificate
[
]
After all the mass cremation
Bringing about man's damnation,
Toxic Molly survived the devastation
And is reborn again through radiation.
Accessories
[
]
Fun Facts
[
]
Her death date is the day before the Chernobyl accident.
A black and white, glow-in-the-dark version of Toxic Molly was offered as part of a Living Dead Dolls Series 9 variant set, exclusive to the Mezco Direct Store.
She's is one of 4 dolls to don a gas mask with War, resurrection Lust, and Resurrection Variant Lust being the others.
Her variant's skin-tone has a green tint, possibly to give her a radioactive look. Also, since her dress is green, this seems to be referencing Paris Green, a dye color for clothing that is no longer used due to the poisonous dye being absorbed into the skin, which has been known to cause death.  
Her tongue is blue. In addition to her being dead, a blue coloring to the organs is a symptom of carbon monoxide poisoning.